Joe,

I show that this property sold in September MLS number 5006081009. Property was possibly a short sale. Per my MLS, in which the agent also listed the property, the home sold for: $129,700

Pend Date:9/26/2008 Sold Date:9/26/2008 DOM:101 N Sold Pr: $129,700 Terms:CONV
Sell Off. ID:500000987654 Sell Off:NON MEMBER OFFICE Sell Agt:NON MEMBER AGENT
Seller Concession:Y Con Type: Con Amt: $500 3rd Party Apr:N


I would agree with the comments about using an agent with access to EUP MLS and working with a Buyer's Agent that can represent your best interests rather than the home seller. It is possible the home was flipped and is back on the market again, although it did not come up in my search.

I think if you continue looking for homes close to LSSU you will need to be faster making offers and allow your agent to negotiate a price decrease based upon facts. Just my opinion.
Joe,

It does still appear on Realtor.com, so it should be listed. Where have you been looking? I don't think you will find it in the newspaper, if that is what you mean.

Your buyer's agent can show it to you and let you know about the taxes.

If you don't have an agent representing your best interests and you need help finding someone, let me know. I don't think I have noticed any agents from Sault St. Marie answering questions here.

Maureen Francis
248.430.4450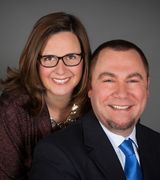 Contact
Good Morning Joe-

The first place to start is to contact a Realtor in that locate area. They will be able to furnish you with listing information including taxes, and if it is still on the market. Realtors belong to different Real Estate Boards that include counties. If the property is not listed, that Realtor should be able to contact owners and see if they are still interested in selling.


Best of Luck to you,
Maryann Kepreos
Keller Williams Lakeside
586-703-8400 Cell