Howard,

I am sorry about the foreclosure.

Lynn's answer is wrong. She is from Dallas and does not know Michigan foreclosures processes. Sonya's is correct. I would add that if you are unable to sell your home during the redemption period, the bank will either have to evict you after it ends, or they will send someone to offer you "cash for keys." They will give you a small sum of money to get out without being evicted, if you leave the home in decent shape.

If you can sell it do. A short sale is to your benefit and the banks. Talk to a local agent who knows how to do short sales for advice.

Good luck to you Howard.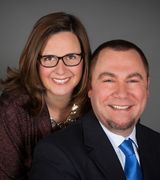 Contact
After the Sheriff's Sale you will be in a period of foreclosure called Redemption Period. The lenght of this depends on how much land you own. Up to 2.99 acres is 6 months and over 3 acres is 1 year. During this time you can redeem your home from the bank by paying off all that is owed plus all accrued fees and penalties. During Redemption Period you can have your home for sale and try to salvage some of your credit score as well. I hope this helps, but if there are more questions...just ask. I am sorry to hear that you are in this situation.
24 hours weeks, or months It depends on how quickly lender moves to vacate occupant. You will receive notice from bank requesting for you vacate within a certain amount of days or eviction process will begin, In some instances you will be paid if you move prior to legal documents process for eviction. I would start packing however others who have waited returned home one day all personal items gone, locks changed.