Bholey
It is common for their to be a lag time between change of ownership and when the public can actually see the change. Part of the paperwork in a sale is the Preliminary Title Report. If you are in escrow it is one of the first disclosures that you will be given.

Ask for it read it, see if it makes sense to you. If you have questions then ask your title officer.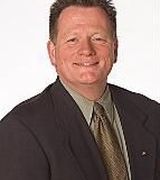 Contact
It could be county tax records are not updated can take several months.

Title company assures who owns property, any person who signs documents without legal ownership is FRAUD. Anyone on closing date must present proof of ID

Have your realtor confirm with listing agent who signed the agreement post property for sale

GREAT QUESTION !
Bholey,

There are "red flags" that should indicate that something's up.
Assuming you have contact information for this financial service company, we recommend being in touch with them for the purpose of insisting they prove to you they have the right to dispose of the property.

A call to the Boca Police department to explain this situation may be in order as well.

It is possible that everything is legal and there is an explanation for everything but you need to proceed with caution at this point until things are clarified.

Good luck