Confirm with your accountant.

My understanding is that if you bought in 2008, you are still eligible for the 7500 credit, which must be repaid. You still get it. It is repaid over 15 years.

Those who buy in 2009 are eligible for up to 8,000, and it does not have to be repaid.

Congratulations on your home purchase!

I have a post coming out about it tomorrow on my blog. The link is below. Check there tomorrow.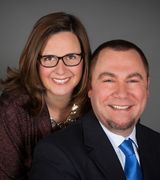 Contact
I believe that the $7500 was raised to $8000 and not only is it a tax credit, it may not have to be paid back. it's actually 10% of the purchase price of the home up to 7500 or 8000. Before there were some income limitations, now I'm not sure. With all the media coverage, haven't seen the actual language of the "package". Doubt if I ever will, maybe thousands of pages. Glad to see you bought a home. We agents need to see more buyers with confidence in the country.
Not sure why you would have been advised of a $15,000 tax credit last year?? It was in a recent DRAFT of the latest stimulus bill to replace the $7,500 interest-free loan (which sounds like is what you have), but the $15,000 was scrapped. I agree with Maureen that you further need to discuss with your financial and/or tax professionals.