Until transaction actually closes and records, it is not in the public records. But if the sale is older, it should be in there. In most states you can check these records online. It would also be in MLS, as a sold listing, with the price, after that point when the seller's agent updates the records.

However, if it is a recent sale and the sale is still conditional (in escrow with conditions still to be satisifed) a realtor may not want to disclose what the property sold for. This is because the property may fall out of escrow and the seller might be open to accepting other offers. A seller would be at a disadvantage from a negotiation standpoint if a subsequent buyer already knew what the seller would be willing to take.
If the property has closed escrow your local Realtor can find this information for you or you could locate this information from the public records.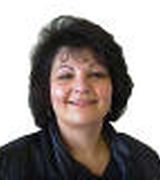 Contact
You should look for county records. County clerk office will help you with that. Or, of course, you could ask a local Realtor and he(she) will help to find that out.