Sylvia Barry, MAS,CIPS,SRES's answer
Great farmers market in Spring and Summer and the schedule is expanding. Other than fresh fruit, vegetable and hand-made items, I always go there to pick up the organic BBQ chicken (from Petaluma farms), Franks BBQ or other items. Great excuse for not cooking that day! Old Town has been renovated and is a lot more vibrant than several years ago (yes, remind me of Palo Alto). Vintage Oaks is a local magnet for regional shopping. We have small mom-and-pop coffee and bakery shops as well as national coffee shops, such as Pete's, Starbucks. Yes, after renovation Grant Avenue is attracting high-end shops and boutiques, even a new old-fashioned candy store (when we know our new Old Town finally arrived :-). In addition to the national big chains of Safeway, Albertsons, we havel local grocers such as Apple Market, Hispanic grocery stores. Locals also enjoy going to Trader Joes and look forward to the grand opening of Whole Foods.....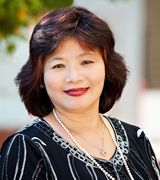 Contact
Novato Has a wide Varity of Shopping from Costco, Target to Macy's,Mens WareHouse, also Office supply Staples and Many Wonderful Resturants to chose from. Many Coffee shops and a great main street with shops from Jewelry, Antiques,Womens Clothing and other shops.
Novato has some of the best shopping in all of the North Bay. Our Vintage Oaks Shopping Center houses Marin County's only Costco and its only Target store, as well as many national chains like Macy's Furniture Store, Old Navy, Sephora and many more. Additionally, The Home Depot and Crate and Barrel have proposed sites to establish new stores and other retail opportunities here in Novato. Novato is also home to some of the most unique and exciting restaurants and shops in its recently revitalized downtown Grant Avenue corridor. Mom and Pop restaurants sit side by side with some of the most contemporary fare available anywhere in the Bay Area. You can also find lots of clothing boutiques, hair cutters, professional services and even a world-class, old fashioned candy store, Powells. One stop and you'll be hooked! On Tuesday evenings from April to October, Grant Avenue also hosts a thriving Farmer's Market featuring fresh produce and flowers from across Northern and Central California. At present, Novato is home to 5 full service grocery stores as well as a planned Whole Foods Market development that will mix retail with housing units. Among the grocery choices are a newly built Trader Joe's as well as a recently expanded and remodeled Safeway store.