rebecca finichezilewrz's answer
Redsparow,
You built at the peak and it will probably be some time before you are at a scratch - there is lots of inventory up in the far northwest suburbs. Sometimes taking a small loss is better than hoping for the perfect time to sell. Being a landlord is not for everyone either- people sometimes do damage to your property or don't pay the rent are you ready to deal with those things?.. if you have had only 2 lookers in the last 6 months, you are probably priced out of the current market.
At this point I would pay to have an appraisal done and see what the true value is at this point. With this information in hand you should be able to make a more informed decision. Remember where you are going to move the prices have also fallen and maybe you can make up part of the loss with a great deal on the new property at a lower cost than you originally planned for.

Mark Karambelas
Baird and Warner
847-989-2710
See link below. You are in a tough market.

Interest rates at record lows.
Economy in the tank.

In most markets homes are selling, more this year than last year, but at much lower prices. Do you think the economy is going to be markedly better next year? I don't. So you either sell at a loss now, or rent it out and sell at a bigger loss next year.

IMHO keeping as a long term rental might make sense. it depends on your retirement financial plan. You might want to discuss strategy with a financial planner and/or CPA.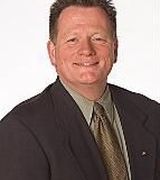 Contact