The Hagley Group's answer
It depends..... Your buyer will request HOA documents....such as CCC&Rs, financial statements. minutes of your HOA meetings. They'll see that there was an issue with the homeowner. With a 3 unit HOA, this is potential cause for concern, unless the HOA has plenty of money in reserves.

Ask your title company to pull a preliminary title report on the property.....the owner may be faccing foreclosure. If so, the potential cash strain on the HOA could be solved quickly.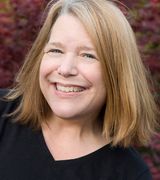 Contact
Have to agree with Cindy's reply. Also, as a small complex 5 months delinquency is a great strain on the operating budget. Not sure how things work in other states, but in Connecticut the association would have started foreclosure proceedings 3 months ago. Unfortunatly if the unit goes into foreclosure, the value of your unit is adversly affected. But, by doing nothing the desirabilty of your complex is negatively affected as the operating budget will most likely require a common fee increase to support the delinquent owner. Double sword! Darn if we do, and darn if we don't... Good luck, Jim