Good evening, Danielle.
How about if I tell you you can still buy a house with 0% down??! That's right, there are only a couple loan programs out there right now allowing this, but if you are looking in northern Oakland county, we could very likely get you into a USDA Rural Development loan. In-fact, I just closed one of these types of loans, from a client I was able to get from here, asking the same type of question.
Please email me at Derek@DoorToDreams.com, or call my cell phone at 734.678.4745. I would appreciate the opportunity to speak with you more about this.
Enjoy your night, and I look forward to hearing from you!
Derek Bauer, Associate Broker / Realtor
Real Estate One
Derek@DoorToDreams.com
http://www.DoorToDreams.com
Danielle,

The first answer to your question relates to the mortgage you can get. Can you get a VA loan or a USDA rural development loan? With FHA you would need 3 1/2 $ down. After that it gets harder. Talk to a mortgage person to see what you will qualify for. After that, you would have better guidance on what you can do.

If you are asking if you can only put down 2% as earnest money, the answer could be yes. It depends on what the seller accepts.

I think your first step is to talk to a local mortgage rep to find out your options. If you need some referrals, feel free to drop me a line. Use my contact button on Trulia

Maureen Francis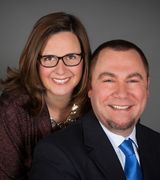 Contact