if it looks like a fish,and smells like a fish...it's probably FISHY!
Don't forget about the interest. Hopefully a lender will jump in here and tell you how much you would actually be paying of you bought with a conventional mortgage over 30 years. If the house was 46k, then $144k after 30 years could be about right. Yes, probably a higher rate of interest than you could get for a mortgage, but then, someone who does not want a credit check probably will have trouble getting a mortgage any way.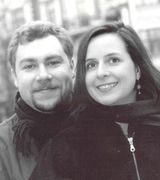 Contact
Sounds very creative, seller must be holding the paper until pay off. I would want to make sure that title insurence is provided up front to assure it is in fact the real owner. If it is in the MLS, the agent should be able to provide more details.