Karen Brewer's answer
Greenwich CT is not an easy market to penetrate. It has its own multiple lisitng service and outside brokers have to be members. Therefore you have to locate a broker that belongs to to that MLS. I can refer you if you wish.
I am an agent in nearby Darien which is a similar type of community and I can tell you that all real estate markets are not created equal.Altho our market is down considerabley, there are not really a large number of foreclosures...maybe a half a dozen in Darien for example. Also even at foreclosure prices you are dealing with twons whose average sale price is over $1.7 million so be sure you know what youre getting into.Contact me if you wish to discuss further.
I am a member of the Greenwich MLS and certified SFR - short sales/foreclosures. There are some opportunities, but not many. There have been some success stories recently, with homeowners who have partnered with their bank to modify their loans in order to more easily afford to keep their property. I just inquired about one such property yesterday. Please let me know if I can be of further help
deb.halsey@cbmoves.com
http://www.debhalsey.com
http://debhalsey.blogspot.com
A local Realtor can help you with lisats of REOs....they may also be able to help you with local auctions.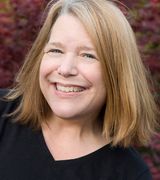 Contact