Jeff,

Congrats! If you had a broker selected and aligned to you at the state prior to taking your test, you would already have your license. If the state was not aware of who the broker was, it will take 1 to 2 weeks to get your license. LOTS to do in the meantime to prepare.

As for business cards, you can order them from a ton of different places online and have them in a day if you want to pay for priority shipping.

Good luck to you.


Derek Bauer, Associate Broker
Real Estate One
Congratulations, Jeff.

You can order your business cards now. Some places will have very quick turnaround.

I don't remember either how long it takes to get a license back. Your broker might have some training they want you do do while you are waiting, so I am sure you could get started on that now.

Good luck.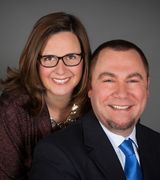 Contact
Congrats Jeff!! I am excited for you to begin your new career! It has been about 10 years since I took my exam and passed but I would have thought they would have given you some idea on how long you can expect it to be before you license arrives. Check out the state website for further info. Business don't take long but it depends where you order them from of course. I get mine from Colour Tech Marketing...they are pretty quick, quality and inexpensive!