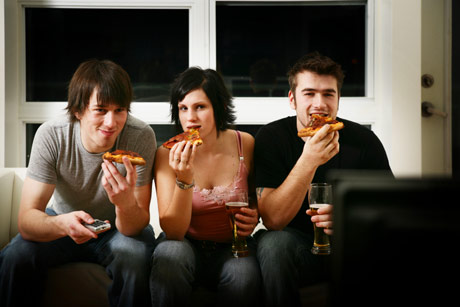 There's no getting around it: food makes people emotional, and emotional roommates equal challenging roommates.
Even if you're sharing living quarters with three equally-sized people with the same budgets and tastes and no eating disorders or special dietary needs, you'll be confronted with some basic problems: Who decides what food gets bought, and how do we split the costs? And what do we do if someone eats all the damn brownies that I made? Again?
Certain houses and apartments make house meals a part of the experience, and split all food communally. The advantage is that there's never any question about what belongs to whom, and there are shared meals and a set cooking schedule that everyone can follow. But that kind of regimented lifestyle isn't for everyone -- or most people, really. If you're not in a co-op, commune, or cult, it can be hard to synch up schedules and get people to pitch in on a shared dining plan.
The complete flip side is a house where everyone labels their food, and keeps food in separate cabinets and different refrigerator shelves. It simplifies accounting, but it can feel a bit unfriendly and redundant - how many salt shakers do you really need?
There's a third road worth considering. "When I shared a house with friends in Illinois, we had a pretty basic breakdown," recalls Ron, now a law clerk in San Francisco. "We had an agreed-upon list of staples -- like milk, coffee, eggs, half-and-half, flour, butter, sugar. We'd just always buy those and split the cost, and everyone was free to use them."
Expensive proteins -- like chicken, or steak -- or desserts, or pre-prepared foods, were in a different category. "We'd keep that stuff in our own cabinets or just put a label on it," says Ron. "Most of the time, we were able to keep out of each other's Oreos. Or at least ask before raiding. It worked out well."
One pair of roommates living in Cambridge, Mass. faced an obvious weight / size disparity. One was a 280-pound weightlifter and amateur football player -- the other, a 150-pound guy who worked a desk job. The solution?
"We just split the food bills 66/33," recalls the smaller of the two. "It was pretty simple. The guy really ate twice what I did, and we both knew it. At the end of the month, we just tallied up the total damage on the groceries and assessed it two-to-one, no sweat."
Another challenge of sharing a kitchen is when one roommate makes a big batch meal -- a lasagna -- or a giant batch of cookies, or a cake. The generous urge to share is natural, and the temptation to filch is utterly human. This can be headed off in two very simple ways -- the baker or cook should lay the terms down each time a big batch is fired off ("can't share this -- it's for a potluck!" or "help yourself to a piece!" or "take as much as you like!") and the would-be eater should always ask for clarification before eating.