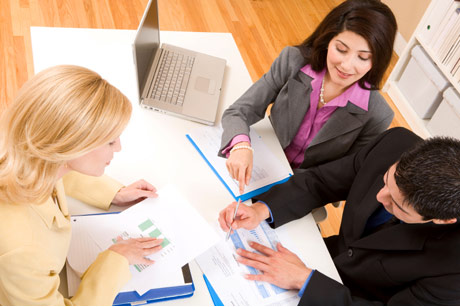 When it's time to sell your home often one of the first questions you wrestle with is - Do I hire an agent or sell it on my own? After all if you can sell your home successfully without the help of an agent you may stand to gain a substantial sum of money that could be used for the purchase of a replacement home, a new water ski, or that Harley Davidson you have been eyeing.
So what are the Pros and Cons of hiring a listing agent? Let's take a look:
The pros
Market knowledge

An agent will be able to provide detailed market information about the overall market, your neighborhood, and your specific home that will be crucial to targeting the right price and marketing strategy to attract a buyer quickly.

Unbiased opinions

A good listing agent will tell you not only what buyers will love about your current abode but what will turn buyers off as well. For instance green shag carpet is out but colorful walls are in. The ability to provide a critique of your home's curb appeal and help with home staging tips can be crucial to building a good first impression with buyers.

Marketing expertise

Agents are trained to pick up on key features that will set your home apart from the competition. Building on these focus points, they can structure a multi-media marketing approach to finding a buyer using their economy scale (advertising multiple properties) that will be hard to match as an individual homeowner.

Exposure

The biggest advantage of using a listing agent is often the dramatically increased exposure that an agent provides through the Multiple Listing Service and web marketing strategies. As typically over half of all listings are sold by co-operating brokers, when you work with a listing agent you are actually tapping into the buyer inventory of every agent in your community.

Negotiation skills

A listing agent provides sellers with an emotional buffer between themselves and the potential buyer. This often makes negotiating a sale easier and more profitable for the homeowner as it's far easier to reject or counter offers through a third party rather than face to face when selling on your own.
The cons
The money

Using a listing agent will often cost a substantial sum of money. For cash strapped or equity poor homeowners this can be a challenge as it will mean their net proceeds after closing will be reduced. Even sellers without any financial challenges often cringe at writing a check to a listing agent if they can avoid it by selling on their own.

The price

Often sellers who forgo a listing agent pass part or all of the commission savings on to the buyer by reducing the price of the home. This strategy is designed to increase the speed of the sale by making their home the "best buy" on the block. In addition many sellers use a portion of the savings to pay for selling incentives like buying down the buyer's interest rate or paying for part of the buyer's closing costs.

The control

Selling on your own means that you will retain full control over every aspect of the sale including pricing, marketing, and negotiating a sale. For sellers who thrive on managing the details this means success or failure will rest on their shoulders.

Showing the home

Many sellers feel they are the best qualified persons to show their home. After all they know more about the home than an agent and they are often able to point out important details that both buyers and a listing agent might overlook.

Negotiating a sale

Sellers who aren't afraid to haggle over price and terms with a buyer may prefer to negotiate directly with a buyer. By standing toe to toe with buyers many private homeowners feel secure that they won't miss an opportunity to "make a deal."
So what's best for you - sell on your own or hire a listing agent? Weigh the options carefully and don't be afraid to interview both local For Sale by Owners who have tried it on their own and local agents who can provide you with a list of their services before making your decision.