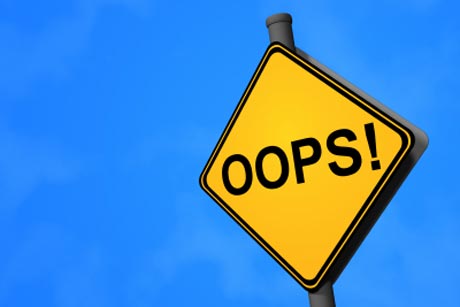 The most critical part of your move is hiring a good moving company - this will make your move much easier. However, even after you've done that, you've just scratched the surface for your relocation. Here are some common mistakes made by the planners and non-planners among us.
No plan

This is obvious, right? You'd be surprised how many people miss it, however. Relocating involves many tasks that need to be accomplished and coordinated, and if you don't know what you need to do, or when you'll need to do it, you'll be disorganized, wasting time and money.

No budget

There's the obvious task of moving, but there are also costs associated with hooking up new utilities, deposits, moving boxes, etc. Some are big, some are small, but you should be aware of them, and how you're going to pay for them. Make sure you have enough to do so, and know how you need to pay them (cash, check, credit card, etc.).

Being unprepared for the paper deluge

Know the lingo that your moving company uses: there's an 'order for service', which your moving company will give you after you hire them for the move; a 'bill of lading', which you sign after the moving company loads your items into the truck; and the 'mover's inventory', which is a run-down of all the things the moving company has loaded on the van. Check this list before signing it at the beginning and end of your move. (For more, see this article on moving industry terminology.)

Panicking at packing

Most people become deer-in-the-headlights when confronting a house to pack up. The trick is to have a simple outline of how you want your move to go: Gather all of your supplies well before your move and place them in the right rooms, then label your boxes in a way that identifies what's a priority to unpack first at your new home. (This article gives you a complete packing plan.)

Failing to inform others about a change in plans

If you make any changes to what you plan to move or when you plan to do it, tell your moving company right away. It will likely affect your price, and it also might affect the type of personnel and equipment they use for your move. Indeed, you can't over-communicate on such issues - they're that important.

Not taking care of the pets or the kids

Try to have someone watch your kids or your pets for the day - they can pose a threat to themselves, and the movers lifting heavy objects. If that's not possible, have them in a room separate from the moving activity - preferably with lots of toys or a TV (or both). Moving with pets poses its own challenges, so check out these tips as well.

Not doing things in advance

Don't underestimate how many things you can do in advance to ease your move day: change your address, switch your utilities, transfer all medical and dental records, etc. It will be good to get those tasks out of the way so you can deal with the actual move itself.