Buyer's remorse -- we've all experienced it as some point in our lives. That's when you think you've found exactly what you want -- whether it's a home, a car or a new piece of furniture -- but once it's yours, you second guess yourself. Did I really make the right purchase? Is there a better condo or house that I should have purchased instead? The following tips from Trulia can help you to avoid getting buyer's remorse...or know what to do if it settles in.
Do some digging
The first step to avoiding buyer's remorse is completing some groundwork before you buy that home. Carefully research the neighborhood where you're looking to move, and make sure it's a good fit for you. Don't buy the first home you see -- thoroughly search the listings on Trulia and on the Multiple Listing Service. Tour several properties, so when you make your choice, you are making an informed one, since you know the types of properties available to you.
Once you find a home you think you like, use Trulia to your full advantage -- pull up the home on Trulia and note the average list and sales prices for similar homes, so you can get a good idea of your target home's value. Research the local market on Trulia and get an idea of whether it's a buyer's or a seller's market, so you know how much leeway you have as a buyer when you're negotiating to buy the property.
Get input from friends and family
Ask for assistance from those who know you best -- your friends and family. They may be able to suggest neighborhoods right for you, as well as point out homes that suit you well. When you do find some properties for sale that you especially like, bring some of your favorite people along and ask them what they see as the home's pluses and minuses. Find out whether they see you living in and enjoying that home.
Seek out the advice of professionals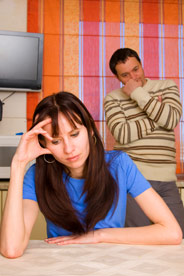 Get help from those who know everything you need to know about buying a home: your real estate agent, home inspector, lender, financial advisor and attorney. With a big decision like buying a home, you don't want to go it alone.
Before you start searching for a home, talk to a few lenders and get pre-qualified for loans so you know exactly how much home you can afford.
Also, take a long hard look at your finances as a protection against overextending yourself to buy a property. If you have a trusted financial advisor, he or she may be able to offer assistance on this.
Once you begin your house hunt, your real estate agent can help you with scouting out the perfect home and neighborhood and with putting your bid in.
You'll want to have a home inspector conduct an inspection of a home you're considering purchasing, so you'll be truly informed on the property's condition and value, and so you don't end up a with home that'll be a money pit down the road.
Buying a home is a legal transfer of a property, so you'd be smart to hire an attorney once you decide to draw up a contract for a home.
Know your needs and wants
You really need to know yourself when buying a home. Do you really require a large home, or would a smaller, more affordable (and easier to maintain) residence be the right choice? What are your must-haves for a home and what can you do without? If you draw up and prioritize a list of your needs and wants, you'll be better able to zoom in on the type of property that will work best for you.
But if you get buyer's remorse
Even if you do all the prep work and make a well-educated purchase, you still may get buyer's remorse. It's human nature to doubt ourselves. If you do fall prey to buyer's remorse, recall what you liked about the home and why you wanted it. You may see that you're really glad you chose the house with the front porch and quiet backyard, even if the home is smaller than other one's you considered, for example.
You can also try talking it out with friends and family. They may be able to help you see why the home is a good choice for you and that buying it was really a good decision, after all.
And if you're still having doubts, work to make the home your own -- a house might not feel like yours until you take out some of the last owner's personal touches and add some of your own decorating and landscaping.
Finally, remember that buyer's remorse is common. No home is perfect, but there are a lot of things you can do to make it the best one possible for you.