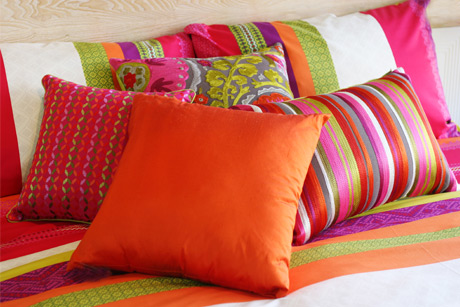 When beginning any major interior painting project, it's important to think about how you want each room to feel. The colors used in your room will help achieve a certain mood and make your guests feel right at home. Here are some pointers to think about as you give your room a color makeover!
Think about each area of your home and the space you want to decorate.
There are many ways to begin a project, and each room in your home is different. To help you think about where to begin we have provided some ideas about each area of your home.
The entry is the introduction to your home. Little time is spent in this area, so to draw attention to the space it's good to use lighting and other decorative items to create a welcoming atmosphere. Consider bold colors to make an immediate impact on people who enter your home.
Hallways are important areas that connect rooms in your home. Consider using lighter, neutral colors that add light and reflection to the area.
Your living room may be formal, using subtle colors, or casual, using fun colors. Let the room reflect your family's unique personality by using the right furniture, fabrics, accessories and color.
The dining room is often a multipurpose area of your home, as it might be used for dining, studying or entertaining. Use dark colors to create a dramatic look or light colors for a soft atmosphere. Warm colors are inviting, while cool colors create a serene feeling.
The great room is about comfort and functionality. Treat it as a fun and entertaining area by using colorful elements. Consider faux finishes or medium colors on walls for durable, creative looks that have a little extra style.
The kitchen is the heart of the home. Use warm, spicy colors: red, orange and yellow that relate to food. Or use cooler, serene colors: green, blue and violet, to add a calm and fresh atmosphere. Update wood cabinets using white to create a clean look. For a contemporary look, paint cabinetry the same color as the walls.
Bedrooms are the most private spaces of the home, but they're also great spaces in which to show your unique personality. Warm colors create a cozy and romantic feeling, while cool colors have a calm, sophisticated effect. Invite the kids to express themselves by selecting their own colors.
Bathrooms are versatile. Warm colors of red, orange or yellow are embracing and create an inviting atmosphere. Create a more peaceful atmosphere with the use of cool colors like green, blue or violet. Lighter colors will open up these spaces, creating an airy effect. Use darker colors to convey a cozy feeling.
The office area requires neutral colors that support a calming atmosphere. Subtle colors help to maintain focus. Darker, muted colors add tranquility. This is a great space to install multiple lighting options to accommodate a variety of tasks.
The playroom helps develop imagination and creativity. Use a blend of light and deep colors along with a variety of fun colors for visual interaction. Use an accent wall with the child's favorite color. Add additional color to the floor, or use artwork and paintable furniture for another fun way to spice up this room.
What can you use for decorating inspiration?
Fabrics, artwork, floor coverings and accessories are excellent ways to begin identifying inspiration for your home. Other decorations used for inspiration may be a patterned pillow, colorful vase, special wall hanging or historic quilt that you have cherished over the years. Select items you're attracted to for their style, color, shape or the memory.
Look at the background color of the decoration you wish to make the centerpiece of your room. View sample colors of the item with the lighting you have available to decide which one is the right color. Surround your item with a variety of paint color samples and you will begin to see the subtle color differences between the samples. The colors that are the best matches will stand out.
Once you've made your final color selection, use that color as the basis of your scheme and perhaps the color you wish to use on your walls. When selecting the trim colors, begin with your wall color choice, then coordinate lighter and darker versions of the wall color until you arrive at a nice contrast.
Further color cues may be taken from additional colors in your decorative item . Use those colorful accents to build your scheme. You may select one, two or more colors from your original item and begin searching for other decorative elements to use in your room. For example, if one of the accent colors is red, you could then select a red vase, red lamp and a red fabric throw for use over a chair or sofa. You could also use this red on an accent wall to add drama to your space.
When using the color elements in your room, you don't have to use the exact same color. The items can be slightly darker or lighter. They don't have to match exactly for your room to have a lovely and coordinated look.
We have made suggestions based on focusing on one accent color from your decoration; however, you may use additional colors found in your decoration, just try to have a nice balance of accents in the room to support the color.
We mentioned beginning your scheme by concentrating on the background color; however, using one of the accent colors for your wall color choice is also another way to create a scheme.
Simply use the beauty of your decoration to lead the way for the color choices in the rest of your room. This is perhaps one of the most popular ways to decorate a space.
Are you discovering your design style?
It may be a daunting job to think about decorating a room, simply because there are so many choices. Think about the colors you love and what your hobbies are. Think of any traveling you've done, or perhaps where you'd like to visit.
When choosing a style, color or design direction, one of the easiest ways to clarify what you truly desire is to spend time looking through color cards, home magazines or catalogues. These are perfect ways to identify the direction that will lead to your own personal style.
Each time you see a room you admire, save the image. You may not understand why you are drawn to a specific room, yet there is something that speaks to you in a picture. Once you've collected a number of pictures you will begin to see a common theme among them, and your style preferences will begin to emerge. This exercise will provide valuable information that will lead you on the journey of discovering your personal design direction.