As Jamie reported on Monday, we're very excited to launch our Trulia Mobile initiative. I'd like to tell you a little bit more about our mobile products and how they work.
Americans are on the go now more than ever, and almost everyone takes their mobile phone with them everywhere. Its always been frustrating to get detailed information on your mobile phone from the internet. But the iPhone is redefining what can be be done on a phone and Apple's competitors will have to keep up. That's great news for consumers and will spur innovation.
I'm a big believer in mobile real estate search. I've definitely wanted to see homes for sale nearby when I've walked around or drove through a neighborhood. And when you're actively in the market, finding Open House information wherever you are is super helpful. By bringing Trulia to mobile devices, we can help buyers, sellers and real estate professionals find very useful information when they want it. All of our mobile products are free from Trulia, although standard service rates may apply from your carrier.
Trulia on your iPhone
With Trulia on your iPhone, you can find homes for sale, including Open Houses, in just one tap from the home page using iPhone's location awareness technology. Or you can create a custom search for the exact home you're looking for. The results can be viewed on a map and you can email a property to a friend, save it to your phone, get driving directions from Google and even contact the listing agent directly from the phone.
Check out this video demo for more information:
Trulia on your phone
The iPhone is great but its certainly not the only mobile phone out there. And we couldn't leave everyone else out in the cold! Trulia on your phone brings Trulia listings to your BlackBerry, Blackjack, Sony Ericsson, Nokia and many other devices from all the leading carriers. You can find homes for sale and the Open Houses near you or in another area, see the results on an interactive map, see a photo, share or save properties to your phone and call the listing agent directly for more information. We worked with our friends at LightPole, a leading mobile content platform, to bring you Trulia on your phone. You can see a list of supported mobile devices here.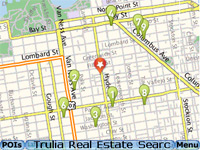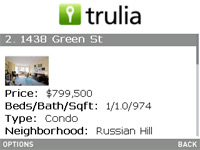 Trulia in your car
Most people drive through the cities and neighborhoods they're thinking about moving to before buying a home. Now you can use Trulia in your car to find homes for sale and Open House information while you're on the road. Just search near your current location or a specific destination and see the results nearby. You get the property highlights, Open House information and listing agent contact info. You even get driving directions to help you through unfamiliar areas. Trulia in your car is built for the Dash Express GPS device.
Check out this video from Dash to get a feel for the Trulia in your car experience:
As a special bonus, Dash is making its device available for sale to Trulia users for $50 off the retail price ($249.99 instead of $299.99). Just use this promo code – TRULIAGIVE08 – when you contact Dash at (888) 949-DASH. All new customers get three free months of Dash service. The code is valid through 9/30/08. For more information, please contact Dash at the number above or visit their website.
The reception for these products from our users has been really great. And we definitely want to hear your ideas and suggestions for new Trulia Mobile products. Feel free to leave a comment on my blog or contact me directly (rcross at trulia dot com) with any feedback. Thanks!