As you know, Trulia started as one of the early real estate mash-ups on the Web 2.0 scene. We thought it was only right (and about time) that we gave a little back to the developer community by providing access to otherwise private data from Trulia.com through the Trulia API.
What's in the Trulia API?
The Trulia API provides access to two primary types of information for every state, county, city, ZIP code and neighborhood across the US, including:
1) Local real estate price trends – Average list price of homes for sale on Trulia, available from national down to the neighborhood level. Data available by number of bedrooms, dating back to November 2006.
2) Real estate search behavior online – Search traffic from national down to the neighborhood level, dating back to June 2006. Data is expressed as a percentage of traffic.
So with the Trulia API you can find out information like:
"What was the average price of a 2-bedroom home in ZIP 94002 on the week of 11/27/2006?" (Answer: $809,533)
"Which neighborhood was the biggest winner/loser in Manhattan over the past 6 months in terms of search traffic?" (Answer: winner=Flatiron District, loser=Battery Park City)
We also have "helper data," listing of all the cities/counties/ZIPs in every state, as well the longitude and latitude info for any of these locations.
You can use the Trulia API data to build a host of applications–from your own spin on our Heat Map, to home price forecasting tools, to mashups of Trulia's data with…really any other source of data.
Can't wait to get started? We couldn't either.
A week ago we held a hackfest at good 'ole 500 Treat Avenue to separate the cubs from the bears and illustrate the (infinite) possibilities of the Trulia API. The office was broken up into groups, and we all had 24-hours to brainstorm, design and build our hacks. We came up with more ideas than I will document here, but here are the winners, ready (or not) for public consumption:
PlotorNot merges average list price data for cities across the US with a diverse group of demographic variables to answer questions such as: "Do people pay more to live in cities with more women in New York state?" and "Do people flee the rain in Washington state?"  Data sources: Trulia API, US Census Bureau, flickr and public data sources. Credit to Roger and his entourage for gifting us with plotornot.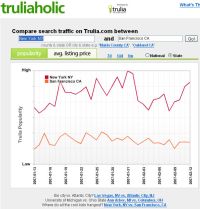 Truliaholic helps users visualize the differences in average list prices and search popularity for any city or county in the US. Data source: Trulia API. Credit goes to Erica and her crack team for their mastery of data visualization.

For developers: to learn more about the data made available by the Trulia API, head to our developer pages for full documentation, a forum and blog specifically to ask questions and discuss the API. As you build cool tools, let us know and we'll add your apps to the application gallery to show off to the world!