You may be looking for a low mortgage rate but are you an attractive borrower?
Money in your account: Make sure you have funds available for the down payment, closing costs and little extra for reserve.
Manage your credit report:Â  Take advantage of the one free credit report a year that you can get from www.annualcreditreport.com
Maintain your credit score: Pay bills on time and avoid major purchases. Have handy the most current financial documents like your last 2 income tax returns, last 2 payroll stubs, last 2 bank statements to speed up the loan application process.
Farewell 3% mortgage rates
By Les Christie
@CNNMoney
June 6, 2013: 10:19 AM ET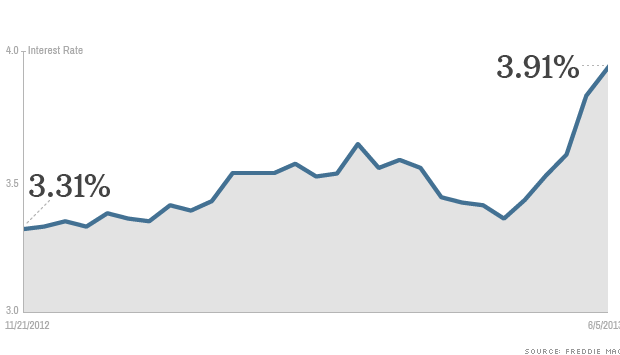 NEW YORK (CNNMoney)
Say goodbye to ultra-low mortgage rates.
In the past month, rates have been on the rise and they are expected to continue to climb.
This week, the average rate on a 30-year fixed-rate mortgage jumped another 10 percentage points to 3.91% and are up from 3.3% in early May, according to mortgage giant Freddie Mac. Meanwhile, those seeking a 15-year loan received an average rate of 3.03%, up from 2.56% -- a record low.
"It's unlikely that rates will ever be that low again," said Doug Duncan, Fannie Mae's chief economist.
Those who didn't take advantage of record-low rates have missed the boat -- at least for now. Here are three reasons why.  Read more cnn.news.com....

Find a mortgage broker that can review your financial status and give you a pre approval letter for the amount that you can afford.  Just remenber that what a bank may be willing to lend may be more than you should spend.

Maria Cipollone
www.Flahomespecialist.com