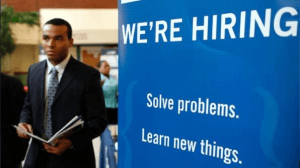 Screencap taken from https://www.facebook.com/ohiocareerexpo
For those who are looking for a new job or considering switching careers, the Ohio Career Expo will take place on Tuesday, October 8 at 10am at the Cleveland Public Auditorium, located at 500 Lakeside Avenue E in Cleveland.
The Expo is an excellent opportunity for job seekers to apply at several different companies. For those looking to hire, it's a good way to meet with hundreds of qualified candidates and possibly make several hires in just a few hours.
Registration is free of charge, but required, as tickets are going fast. Over 100 top Northern Ohio companies looking to hire will be in attendance, with full-time and part-time jobs available in industries including (but not limited to) advertising, aeronautics, agriculture and fishing, automotive, construction, education, engineering, food services, healthcare, hospitality, insurance, manufacturing, marketing, real estate, retail, sales, security, technology, telecommunications, and transportation.
According to the event's official Facebook page, there are over 1,200 job openings in the Cleveland area healthcare sector alone. So don't miss out on this fantastic opportunity, register now. For more information, please visit https://www.facebook.com/ohiocareerexpo.