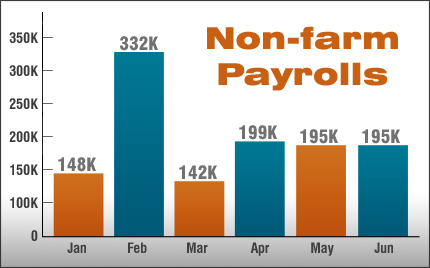 Non-farm payrolls surged by 195,000 in June, well above the 166,000 expected, while the data for April and May was revised higher by 70,000. The Unemployment Rate remained at 7.6 percent in June, but the U6 number, which includes people who can only find part-time work or have become too discouraged to look for a job, rose to 14.3 percent. 
For the first half of 2013, employers have added an average of 201,000 jobs each month as the labor markets continue to improve. The Fed is watching this number very closely and it will be a determining factor in how long they continue their Bond purchase program known as Quantitative Easing.
The housing market is another key factor in this decision and the good news continues in that sector as well. Last week, research firm CoreLogic reported that home prices, including distressed sales, rose by 12.2 percent in May 2013 compared to May 2012. This is the biggest annual gain since February 2006. However, prices are 20.4 percent below the peak set back in April 2006. Tight inventories and historically attractive home loan rates have been the fuel behind the rise. 
What does all of this mean for home loan rates?
Remember that the Fed's Bond purchase program has helped Bonds and home loan rates remain attractive. But if the housing and labor markets continue to improve, the Fed could consider tapering their purchases sooner rather than later. However, just the talk of potentially tapering these purchases has led to increased volatility in the markets, causing Mortgage Bonds and home loan rates to worsen recently. This is an important story to monitor in the weeks ahead.