Hoarders; Home Edition!


You've probably seen or heard of one of the television shows depicting hoarders.  These shows are insanely popular, maybe because you can see such extreme cases that it has shock value, and perhaps it's because we see a bit of ourselves on the screen.  We all have a few things here and there we don't use or need.
May is a great month to get organized at home, and there's no better way to do it than to start in the closets and garage- the places where we keep most of those unnecessary items.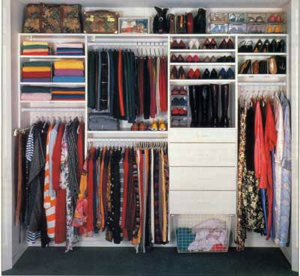 Let's start with the closets.  The first thing you want to do is pick a closet to start with, because taking on more than one at a time can get overwhelming.  Going from smallest to largest is probably a good idea.  Remove everything!
Divide the items into three categories;Â  Keep, Toss, and Donate.
Don't keep any clothes item that isn't in fashion or doesn't fit, and if you haven't worn an item in over a year there's a good chance it will never be worn again.  Keep other items that have a sentimental value to you, but everything else should really be analyzed to determine whether they've been used in the last year and if they're worth the space they're taking up.  Put the closet back together in an organized fashion, which should be a great deal easier than before.  Repeat for each closet!
You should always do the closets before you tackle the garage.  Closets not only have the capability to easily spill over into living space when they become overused, they also serve one purpose- storage.
With a garage, you have to set your priority first.  Is it space to park a car, store some outdoor gear, or something else like a workshop?  Once you determine what you want your garage to be, sort the stuff much the way you did the closets- each item either being kept, given away, or tossed.
As you're going through the process, start putting the garage together in "zones".  One zone might be for garden tools, another for outdoor toys.  You might find as you're putting the garage together that you need storage solutions like cabinets or pegboard.  There's a number of garage organization systems out there, most of which can be bought at the homes stores cheap.  If you want to hire a professional to create a garage organization system, it's going to look great and be functional- but don't expect a good return on investment when it comes to "remodeling" your garage!