WELCOME TO EASYPARK AT AUSTIN, TEXASÂ 

Experience easy parking in Austin

Drivers like yourself can stow away your loose change and credit cards. EasyPark is a portable device which allows you to transfer money online to the system. It is then displayed in your windshield to show the you're all paid up. You decide the amount and time.There is no need to go back and forth to the parking meter, or predict how long your shopping trip will last. Just preload funds to your device and hang the device on your window. Experience EasyPark, and park easier.
Join the EasyPark program by purchasing a device for $29.95* (comes pre-loaded with $10).
There is a $1/month membership fee per device.

Easy Park in-vehicle parking meter affords AUSTIN drivers several advantages:
Convenient. No longer need to have coins or a credit card when parking.
Sweat-Free. Drivers no longer need to go back and forth to the meter on a blazing summer day. Just turn your EasyPark on for the zone you are in and enjoy your visit downtown.
Eliminate meter guessing. You no longer have to predict how long you will be parked. Just turn the device off when you are done.
Pay by the minute. Pay in 15 minute increments. No one hour minimum for credit cards or 20 minutes for coins.
It will remind you every 60 seconds with a tone in the event you drive away and don't turn it off.
You can turn it on before the hours of meter operation. Charging won't start until 8 a.m.
You don't have to come out to turn it off. The EasyPark device will stop charging once meter hours end.
Getting Started:
You will need internet access and a credit card to use the EasyPark system.
Each EasyPark cost $29.95 and is loaded with $10 in parking fees.
There is a $1 month membership fee per device.
Go to www.EasyParkUSA.com/austin and EasyPark will send you an email to set up your account or call 1-855-873-2797 (toll free) Mon.-Fri., 8 a.m. to 5 p.m. CT.
$2.95 fee for reloads up to $50; $3.45 for $75: and $3.95 for $100.
Important To Note:
Display properly. The EasyPark device is valid only if displayed properly by hanging from the side widow closest to the curb. For angled parking, display from the driver's side.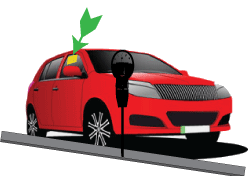 Correctly indicate the parking zone you are in. A number shown on the sign above the parking paystation (as shown in photos below) indicates the zone you're in. Zones are in place to track revenue in each area, as percentages of revenue generated is dedicated to improvements like sidewalks, lighting, and other safety projects.