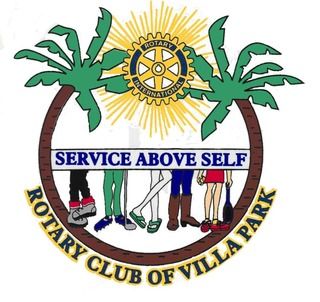 Rotary Club of Villa Park Newsletter
Impressive speech Contest Today
Fireside Chat Last Night
 
Thoughtful, well spoken words filled the Villa Park City Hall Council Chambers as four Villa Park High Students competed in this year's Speech Contest.   This year's competition which was organized by Vocational Chairperson Linda Bartrom-Olsen had students competing from the Sophomore, Junior and Senior Classes of the School and  was energetic and interesting.  More on this later.....
Our meeting began with  opening exercises led by Pastor Stan Van Denberg who quoted scripture about the cleansing of spirit.  Jill Kuli reminded us once again through her watching of the Olympics in Vancouver about the power and spirit of our Flag as she led us in the Flag Salute.  Teri Brooks led the singing of America the Beautiful and Greg Mills led the recitation of the Rotary Four Way Test.
Guests:
Speech Contestants:
Dustin Scott Finn- Junior VPHS
BreeAnna Rose Baeyens- Sophomore VPHS
Mark Vega- Sophomore VPHS
Diane Marcus- Senior VPHS
Kim and Dan Marcus- parents of Diane Marcus
Tracey Moore- mother of Dustin Finn
Mr. Vega- Father of Mark Vega
Wayne Silzel
Lisa Stepanski
Speech Contest:
The theme of this year's event was "The future is in Your Hands"
Each of the speakers did an incredible job with the theme, discussing what this concept meant to each of them.  The judges Wayne Silzel, Jay Lieberman, Bryan Nash and Lesslie Giacobbi had a difficult decision to make in determining the winners.  Jay Lieberman commented how close the scoring, which was done using Toastmaster International Standards, was and declared that they were all winners. Wayne Silzel also commended the students on how well they did in covering the subject material. 
The winner will go on to compete in the District Event.
First Place- BreeAnna Baeyens- $200
Second Place- Diane Marcus- $150
Third Place- Mark Vega- $100
Honorable Mention- Dustin Finn- $50
The club thanked Dr. Bartrom-Olsenfor putting to today's Speech Contest and last week's Singing Contest.  We can all be very proud of the students at Vill Park High School who showed their singing talent last week and their thoughtfulness and poise today.  These students will go on to become our future leaders.
Speech Contest Participants and Judges: (left to right) Diane Marcus, Lesslie Giacobbi, Mark Vega, Wayne Silzel, Linda Bartrom-Olsen, BreeAnna Baeyens, Jay Lieberman, Dustin Finn and Bryan Nash.
Anniversaries:
Jill & Dennis Kuli -celebrated their 47th wedding anniversary at Gabi' Kitchen in Orange and with Desert at Baskin-Robbins.  Congratulations to one of Villa Park's best.
Announcements:
Jill Kuliannounced that interviews for the upcoming Camp RYLA are ongoing and that we are still looking for good candidates from both VIlla Park and Lutheran High.  Students should be high school juniors.
Jay Applebaum discussed the upcoming Harlem Ambassadors Basketball game on May 1st.
He was happy to announce that our own Brice Pratherwould be heading up the team and that Brice is gathering Villa Park and hopefully some Lutheran High Faculty, Coaches and Basketball Alumni to show the Ambassadors that we in Villa Park "got game"   The game will be at the Villa Park High Gymnasium and seats will be in the $8-10 range with a special Sports Lovers Package that includes VIP seating, a gourmet Pre-game Meal, a special Meet and Greet with both teams after the game and a chance to win an autographed ball.  Jay is looking for volunteers to help with various aspects of the event so contact him at jay.applebaum@gmail.com  if you want to help out or have any ideas on how to help make this the event of the year in Villa Park.
Greg Mills talked about another upcoming fundraiser this summer- an Asphalt Beach Clam Bake right here in the parking lot across from the city hall.  This event is still in the early planning stages, but Greg hopes it will become an annual signature event for the club and the City of Villa Park. 
Stay tuned for more on this ....
Greg also announced that this year's Oktoberfest will be on October 7th at the Phoenix Club.
Joe Brand talked about last night's Fireside Chat which was held at the home of Steve and Lainey Stern. New members Stan Van Denberg & Pete Moriarty; and member applicants Wayne Silzel and Lisa  Stepanski were in attendance plus many of our club members.  We were treated to a delicious barbecue chicken and tri-tips meal prepared lovingly by the Sterns and a masterful presentation about Rotary by our Charter Past President Jay Lieberman.  Each service area of Rotary was discussed by members of the Board. Everyone learned a lot about Rotary and each of the Areas of Service. It was pointed out that Millie Alexander and Pam Dunn were absent, but with good cause, serving up our monthly dinner at the Ronald McDonald House in Orange.
Pam Dunn made an announcement about the reservations for the Yorba Linda Lobsterfest Dinner on May 21st.  We have about 14 people who want to have a reserved-catered table.  We need 3 more couples to fill up the second table of ten.  Those interested contact Pam- cost $150 per person with a check made out to the Yorba Linda Rotary Club.  This is a fantastic event and those of us who attended last year had one heck of a meal and a great time seeing how one of the biggest Rotary Fundraiser in Orange County is done. Their club makes about $125,000 per year at this event.
 
Happy Bucks:
Jay Applebaum offered congratulations to Millie and Craig Alexander on the upcoming marriage of their son Tyler this Saturday. 
Teri Brooks- wanted to salute our athletes participating in the Vancouver Winter Olympic Games
Greg Mills- wanted to salute our Speech Contest participants for the outstanding job they all did in today's event.
Jim Brodsky announced the birth of his 14th grandchild.. and he promises more to come.
Jeannie Hankins wanted to salute the life of her father-in-law who passed away 2 weeks ago. He would have been 96 today and according to Jeannie he was still mentally sharp and lived a wonderful life. 
She also announced that she is looking for committee members to serve on the Foundation Committee- Nagi Ibrahim volunteered.
Bob Meyer-reported that he had a speaking engagement in Camarillo to help promote his efforts to support our troops overseas.  He was chauffeured too and from the event( a distance of 300 miles) and reported he got his first ever standing ovation. 
Teri Brooks reminded everyone to bring in snacks this month to send  to our troops- chips, cookies, candies-  Jim Brodsky suggested we send "something healthy" for the troops... Bob Meyer suggested we send Jim.  This got quite a laugh from the group.
Joe Brand told a police related joke with a punchline that bashed lawyers- his joke telling has improved and this one got a good laugh.  He took the opportunity to once again thank Jay Lieberman and Steve Stern for last night's Fireside Chat.
Chanda Parrett did Rotary Make-ups in Laguna Beach and talked about her experience there and second make-up at the  DoubleTree Hotel in Orange for a "State of the City" meeting.
Eric Sense was happy his mother was able to watch his kids so that he and Christie could go out for a romantic Valentine's Day Dinner.
 
New Members Up For Consideration:
Wayne Silzel- category Commercial Real Estate Finance and Consultation
Lisa Spepanski- Attorney
These two new member applicants were accepted at last night's mini Board Meeting following the Fireside Chat.  They now enter the 10 day review period as prescribed by our Bylaws.  Please contact us if you have any questions or concerns regarding the application of these two new member candidates.
 
Leave Of Absence Granted:
The board approved a One Year's Leave of Absence for longtime Villa Park Rotarian Dr. Ken Fischer.  Ken has been a valuable asset and exemplary Rotarian  over the years and we hope he will return to the club sooner than later.  He will be missed.