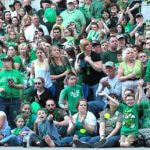 It's that time of year again when the streets of Cleveland turn green. The 14th annual St. Patrick's Day parade will kick off at 2pm on Sunday, March 17 at Superior Avenue and East 18th Street. The sea of green will then march to Public Square and circle back to East 6th Street, spanning an approximately two mile route that will take about two hours and 15 minutes.
Parade organizer Shannon Corcoran said, "We try to keep a steady pace, but if it's cold, they tend to move faster."
Last year's parade was fortunately held in sunny weather, which resulted in a crowd of about 400,000 joining in along the parade route.
The Cleveland parade holds the distinction of being the oldest and largest in the state, and has stayed within the top ten largest in the whole United States. This year's instalment will have about 13,000 marchers participating, as well as a couple of Irish wolfhounds and 208 units.
Visitors can expect to see police officers dressed in sharp uniforms, high school marching bands in their glittering costumes and bagpipers in their Highland kilts. Kevin McGinty of Euclid will be the parade's grand marshal, and Una Ellis of North Ridgeville will be the Irish Mother of the Year. Since this year will mark the 150th anniversary of the Cleveland Fire Department, the parade will see a lot of fire fighting gear as well.
This year's parade theme is Irish immigrants coming to America.