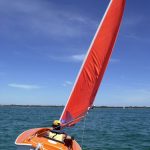 The 56th annual Mid-America Boat and Fishing Show, also known as the Cleveland Boat Show, will take place from Thursday, January 17 to Monday, January 21 at the I-X Center located at 6200 Riverside Drive in Cleveland.
One of the largest boat shows in the United States, the Mid-America Boat and Fishing Show will feature over a thousand new and classic boats, ranging from the latest motor boat models to classic or used sailboats. Expect to see hundreds of interesting exhibits, including full-scale models and boating and fishing accessories, as well as live entertainment, food and drinks, and fun activities for children.
Highlights of the show include a one of a kind pavilion that will be set up on the show floor in celebration of the Battle of Lake Erie bicentennial. Visitors can marvel at a replica of Oliver Hazard Perry's longboat and mingle with historical re-enactors wearing period costumes.
Sean Fisher, grandson of famous treasure hunter Mel Fisher, will be showcasing valuable treasure finds, including an 8-foot long gold chain, gold bar and disc, silver coins, and a beautiful Atocha emerald which was valued at half a million dollars.
Meanwhile, children of all ages can enjoy educational fun with the Swampmaster's Gator Show, where expert handler Jeff Quattrocchi will catch an 8-foot, 200-pound alligator with his bare hands!
For more information on the show, please visit midamericaboatshow.com. Tickets are available on the website and at the I-X Center box office.