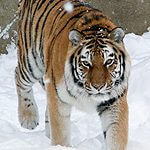 December Days at the Cleveland Metroparks Zoo kicks off today, December 17 at 11am. From now until Sunday, December 30, enjoy fun and festive family events at the zoo, including special seasonal activities such as holiday crafts, live music, cookie decorating, picture-taking with Santa and Mrs. Claus at the Wolf Lodge and more.
The Zoo Gift Shop will have a special pop-up Santa Shop located inside Wolf Wilderness from December 17 to December 24, where you can pick up fair trade and conservations gifts including Congo Coffee, which benefits the Panzi Hospital in Congo; Yerba Mate tea from Argentina; and PooPoo Paper products, which are made from recycled animal dung. Sounds pretty crazy, but don't knock it till you check it out.
Of course, the main attraction at the zoo will always be the animals. Visit the bears, tigers and reindeer at the Northern Trek, and then ride the complimentary heated shuttle to the Primate, Cat & Aquatics Building, where you can see different monkeys, felines and sea creatures.
Don't worry about the cold weather, as the Zoo also offers warm indoor exhibits. The RainForest houses 600 animals and around 10,000 plants! Kids will especially enjoy watching the orangutans, otters and sloths at play.
The Cleveland Metroparks Zoo is located at 3900 Wildlife Way in Cleveland, and will be open from 11am to 3pm from December 17 to December 30 (closed on Christmas Day.)