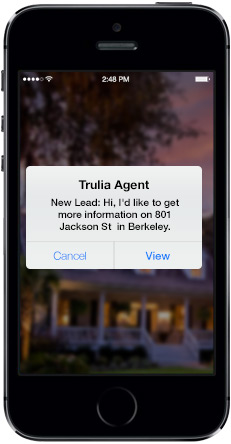 Trulia for Agents iPhone App
The Trulia for Agents App is the best way to manage your business while on-the-go. Get instant lead notifications, contact prospective clients, and view nearby listing information.
Stay in touch with clients while on-the-go
Convert Leads. Get notified instantly for every new lead so you can respond quickly.
Work faster and smarter. View and easily search your leads, all in one place.
Find homes. View listing information while on-the-go and send clients real-time information.
Stay informed. Get the latest real estate news and tips from the Trulia Pro Blog.